My grandfather delivered milk by horse and cart. Clopping hooves, the clink of bottles and the promise of daily delivered fresh milk is now but a faint memory. It was his life and business.
Large supermarket chains have claimed his job.
Waiting to have your film developed was part of the holiday ritual. It also sometimes meant discovering two weeks after the event that they were overexposed or were so dark they were useless. Taking photos was restricted to a roll of a 24 or 36 shot film canister.
Kodak's reign is over .
The city newspapers still deliver our news in print but billions in business assets and even survival is under threat as information distribution moves online. Bloggers, Twitter and technology have changed the game.
So what are some indicators that you are becoming irrelevant in a tsunami of change and  what can you do about it? Here are 10 signs that your business is in trouble.
#1. Technology is an afterthought
Sometimes the key difference between continuing to be relevant and business extinction is technology. I don't mean upgrading your photocopier, but taking a long hard look at trends in your industry that are promising disruption. E-commerce is not just about buying on the web it is commerce driven by technology that offers better service, speed to market and global reach.
Invest in technology until it hurts.
#2. The content is light and fluffy
Ever visited a company website and found nothing but froth, fluff and corporate speak. There is often no blog and if there is, it all about them. No content to educate, inspire or entertain. They are afraid to give away their knowledge.
Add value to your customers and prospects. Online that is the only way they know you are an expert and thought leader in your industry.
Source, create and publish the best content you can. Every day!
#3. Can't spell SEO
SEO is an acronym and it is only 3 letters long. Many CEO's still can't spell it despite having a degree and years of experience in writing and grammar. Not being found in search can be a death sentence.
Investing the time and effort in making sure that you rank high in search engines is not an option unless you think Google is going away soon.
#4. Forgotten about the rest of the world
How many of you buy a product from the other side of the world?  Book, software or fashion. Your competitors can be in Hong Kong, New York or London. Often delivery is faster than the corner store.
Relevance today means global thinking.
#5. No continuous learning
So you have been to university or college. Your education is done. You can sit back and bask in the glow of the framed degree on the wall. I know doctors like that and they are dangerous!
Read blogs in your industry, attend conferences and read till your eyes bleed.
A fast changing world means yesterday's degree is just a piece of paper.
#6. Passion and purpose is missing
A person with no passion and a company with a flapping purpose is ripe for disruption. A company on a mission means they will do what it takes to keep up to date. They invest in their people, culture and  education. Maintaining the status quo doesn't cut it. Dead people walking is a sign that life is ebbing away.
Make sure you have a clear mojo.
#7. Ignoring your young people
Grey hair, suits and shiny shoes are all good. If that means that you are doing the same things from 20 years ago and the results are static or diminishing then you may need an injection of new blood. Your 20 and 30 year olds are the future and they know what works on a social and mobile web.
Young and crazy is sometimes sensible.
#8. Buying is complicated
Ever bought an ebook on Amazon. It is one click! Do you put obstacles in the way of your customers. Do you make them jump through hoops.
According to Ev Williams, the founder of Blogger and Twitter.
"Here's the formula if you want to build a billion-dollar internet company. Take a human desire, preferably one that has been around for a really long time…Identify that desire and use modern technology to take out steps."
So the thinking should be when building a successful online business is "how can I take out the steps?"
Companies such as Selz, with quick and easy set-up of online payments for bloggers and business and Canva, who makes design as simple as find, drop and drag know that. They understand the beauty and importance of simplicity
Jack Dorsey is doing that with Square that makes buying easy using a mobile. Started in 2010 it now has 600 employees.
#9. Mobile isn't mentioned
Finding information, checking the weather and buying products is no longer a desk job. Reading emails and making purchases are done on the bus, the beach and in the cafe.
Companies that are ignoring the smartphone revolution need to design their business and technologies for a mobile world.
#10. Inflexible
We all have our own ideas but sometimes you need to listen and watch to what is happening around you. It's called awareness. Resisting change doesn't mean you don't care. Being flexible is a way of thinking. Being open to new ideas and just plain listening means you can adapt
How do you remain relevant?
It can be summed up with a simple phrase, "Watch, listen and learn"
Are you relevant or are you in danger of becoming a dinosaur?  Ecommerce, mobiles, new media and  technology are disrupting business as usual. How are you coping?
Look forward to your insights and feedback in the comments below.
Want to learn how to make your blog a success with social media marketing?
My book – "Blogging the Smart Way – How to Create and Market a Killer Blog with Social Media" – will show you how.
Social media marketing is still the hot topic in town.
But even large businesses with expert marketers on the job make rookie mistakes when it comes to social media. Here are the top five social media marketing mistakes that you need to watch out for.
#1. Using the wrong metrics
When people are forced to deal with a subject that they don't understand, they often try to gain some sense of control by applying the same rules to it that they've seen to work in their area of expertise. This kind of simplistic thinking can be the rot of many mistakes.
Many conventional marketers make this sort of mistake when they try to measure the success of their social media marketing efforts. They use the number of fans or followers that their efforts have gained for the company as the primary yardstick by which to measure their success. They tell themselves that if viewership numbers matter in the television business and circulation numbers matter in newspapers, follower numbers should matter in social media.
In truth, though, it doesn't matter how large a social footprint you have. You could have thousands of Facebook fans without it making a difference to your business. In social media, what matters is how much people feel compelled to talk about your business by tweeting about it, bringing your business up on Facebook and sharing your videos among their friends. Businesses that truly understand social media marketing use metrics that make sense for social media. They measure brand sentiment, the number of times their customers share their experience with the company's customer service department and so on.
#2. Setting up too many social network accounts
At one point, IBM discovered that hundreds of their managers had an IBM-branded Twitter presence, each one with his own handle. People who wished to follow IBM on Twitter had no idea which one of these was the real IBM. Top management had to intervene and shut down all but a few accounts.
Managing one social media business account properly can be a huge responsibility by itself. Even large companies often have trouble adequately staffing and running a lone Facebook account. Many small businesses, though, make the mistake of jumping headfirst into every social media platform, major and minor – Google+, Pinterest, Vine, Ning, Tumblr and FourSquare, among others. They only think of how they are stretched too thin after they've set up pages everywhere and got a handful of fans. They are then forced to abandon many networks and lose face. The lesson to learn here is that no small business has the resources to run more than one or two social networking accounts.
#3. Making your social presence all about you
Just as no one likes to be around a person who just likes to talk about himself, no one likes hanging around the Facebook page of a brand that can't get enough of itself.
Brands that have no idea how social networking works jump in thinking that it's a traditional advertising platform. All they ever give their followers are advertisements and unimpressive discounts to buy stuff with. While it isn't wrong to get in a little advertising, it won't do to plan your Facebook content around advertising. Even conventional TV advertising doesn't work without offering humor, good music and visuals and an interesting plot. If you are going to get your business on a social network, you should concentrate on finding out what kind of content your customer base is interested in and invest in high quality content creation to meet the need.
If nothing else, you should try to make your Facebook presence customer-centric by promptly responding to every comment.
#4. No communication
Businesses run efficiently through division of labor. They create separate departments with specialized knowledge of HR, customer service, marketing and so on. Creating a separate, self-contained department for social networking, though, doesn't work. Every business needs to involve multiple departments in its social media marketing effort.
The marketing, PR and customer service departments need to be in the loop.
#5. You don't have a plan
In many companies, the decision to jump on the social bandwagon is an emotional one, not one that's the result of thinking and planning. This results in a social presence that is always run on improvisation and seat-of-the-pants creativity. An unplanned approach can result in lost opportunities. For instance, if your business doesn't have an editorial calendar for your social media presence, you may simply neglect to say something important and relevant when the Super Bowl comes around, when the back-to-school shopping season starts and so on.
Finally…
Sometimes, businesses manage to be unsuccessful without making any of these mistakes. This can come from unwillingness to try anything new. The most important thing with putting your business on a social network is to be engaged and to constantly try to find a way to reach out to your customer base and be relevant to them.
Guest author: Bill Nixon is immersed in all things social media and marketing. An experienced writer, you can find his interesting articles mostly on marketing, business and financial blog sites. Check out these reviews about services like Yodle for more ideas.
Want to learn how to make your blog a success with social media marketing? Struggling with creating great content?
My book – "Blogging the Smart Way – How to Create and Market a Killer Blog with Social Media" – will show you how.
Flipboard is a social media content aggregation service that lets users grab content from anywhere and compile it into visually stunning digital magazines. It launched in 2010 with an app that was specific to the iPad. In mid-2012, an Android app was released, along with plans for a Windows phone app. The company recently launched a Web-based Flipboard portal that showcases select magazines.
Fast forward to 2013 and the numbers show that Flipboard now has 85+ million users!
Why you should be on it? Our age of information digitally is constantly evolving and with Flipboard's strength you will be able to bring your social networks such as Facebook, Twitter, Instagram, Google+, LinkedIn into one location. This can sit alongside your favorite news sources and anything else you want your customers to read, or watch (like YouTube videos). This is your own personalized version of the web in a magazine format.
If you are really not convinced about using Flipboard and looking for some more features, check out what Kimberly has to say about some great features of Flipboard.
After creating the Flipboard magazine, you want people to read it, engage with you. Let's look at 6 effective measures to grow your magazine readership and amplify your marketing with Flipboard magazines! 
1. Social care
Today people are connected 24/7 with their mobile's, and with the array of applications made available to them. This is a chance for brands to reach out to them and connect with them. Social networks are the easiest ways for customers to complain regarding the product/services. But to connect with them beyond the customer care service, brands have to build a more personal relationship, which makes the customers feel like a friend. By doing so you will gain customer loyalty and they will even go out of their way to influence others for your brand!
Example: Give tips, so your audience knows you care. By just providing tips regarding "12 simple tips to improve your sleep" Delta Airlines build a friendship with their customers at no additional cost.
2. Events and campaigns
With the option of creating multiple magazines in different categories you now have a platform where you don't have to put all your content on one page! With this option you can create dozens of magazines for your events/campaign. Keep the storytelling style of your magazines for events fresh. To garner attention for events keep fun names which attract your customers. Make sure the description is clear and succinct and explains the purpose of your magazine.
Example: As a brand you can create different magazines for events covering – Images, Celebrities associated with the events, Information about the events. Like promoting a new movie.
3. Products and services
The key to promoting a brand is not just talking about the products and services. Use this opportunity to curate pictures, reviews or news stories relating to the brand keeping in mind Pareto's Principle (the 80/20 rule). Keep 80 percent flipped from across the web and 20 percent is allotted to brand, promotion and content. You then have a mix of related content, it keeps the subscribers informed as well as entertained!
Example: If you are a coffee brand use feeds and articles which are relevant to your industry by providing articles, photos and videos.
Photo credit:  Phoblographer.com
4. Monitor and track your competitors
As the saying goes "Keep your friends close, and enemies closer". In this case not really enemies but competitors! The magazines in Flipboard can be made public or kept private. You can keep a closer eye on your competitors, by creating a private magazine and tracking all their activities. With this it would help you compare the strong and weak areas of your brand over time.
And don't forget, Flipboard allows multiple users to curate one magazine. So your entire research team can help you in this.
Example: With cut-throat competition in the mobile industry, the option of a private magazine you can provide a personal portal that collects relevant information and keeps you across what's happening in your industry.
5. Make it a social hub
Social media can play a large role in attracting new visitors to your magazine. Flipboard has made it easy by consolidating your Twitter, Facebook, Instagram and Google+ feeds into a magazine, which you can then flip (load) your brand posts into. As the audience like being connected to great experiences, you can use Tweets/Facebook posts as testimonials. Brands can now consolidate them into a magazine.
Example: Restaurants receive reviews by customers, creating a magazine of all the good reviews. Nothing excites a potential customer more than, to see testimonials by other customers as it re-instates their belief about the brand and makes them want to gain the same enriching experience as well.
6. Drive traffic
Marketing your brand is about being everywhere in a wide range of media formats to increase brand awareness and drive traffic to your web properties.  So create your own Flipboard magazine for your blog. Load up your articles and you have your blog in a magazine format. Flipboard just happens to make it look sensational!
As Flipboard is now not just an app now but also on the web you have added another distribution point to amplify your content in another format. Here is the traffic being driven to the Jeffbullas.com blog by Flipboard a couple of days ago.
Example: Here is the Jeff Bullas.com Blog Magazine
Your turn
Flipboard is the new way to flip that marketing switch for visual impact. It adds another dimension to your content on a web that craves stunning images and photos.
So what do you think?
Are you ready to give the Flipboard Magazines a go? If you are already flipping share your experience with us!
Bonus Resources
Guest author: Harsh Ajmera is the founder of Digital Insights
Want to learn how to make your blog a success with social media marketing and contagious content?
My book – "Blogging the Smart Way – How to Create and Market a Killer Blog with Social Media" – will show you how.
Google Plus is more than just a social media site. It can be a tool that can help boost a website's ranking on Google's search engine.
With the changes and updates on the Google algorithm which was introduced as the Hummingbird, Google Plus becomes an integral part of any online marketing and SEO strategies of bloggers, webmasters and internet marketers.
So what is Google Plus, really?
Google describes the service as connecting social, communication and people which is designed to build your website's ability to rank higher on search. Here we show you how to increase your SEO with Google+.
4 tips to build content relevance on Google Plus
Blogger and content marketers use their Google Plus profile to associate their content to their own authorship. By writing high quality content about subjects belonging to your business category will help the search engine to identify you as an authority within your niche. Your content should always be relevant to your business industry to help the search engine identify your business niche where you are trying to build your authorship.
The main objective of Google Plus is to improve the user's experience by integrating quality content publication to your social networks. It requires that your content should be one that is relevant, accurate and updated for the benefits of your readers.
In order to help the search engine identify your authorship and field of business industry, Google Webmasters offer the following tips to help you build your content relevance on search:
Optimize your Google Plus profile. It is important to optimize your Google Plus profile in order to make it more revealing to your followers. As much as possible, complete all the required fields from your Google profile such as adding your profile image (no one will like to follow an  anonymous Google Plus author), website URL, business details and description. If you can, have your Google Plus Page get verified by Google to improve your credibility. 
Link your Google Plus Page to your site and social extensions. By adding your Google Plus Page directly on your website will make it easier for the search engine to associate your website to your Google Plus profile. Use the snippet of the code for your Page and connect the code to your Adwords campaign as well as to your social extensions. Using the Google Plus badge or the +1 button will also make it easier for your social connections to follow and identify your authorship to your website.
Be consistent in posting high quality content. People are more likely to follow you if you are able to constantly connect with them by posting high quality content that they find useful. By writing highly relevant content,  the search engine queries can assist you in achieving high rankings in Google web search and even on the Google Plus search results. 
Make your content dynamically engaging. To make your post engaging, offer your readers solutions to their problems. Commenting on the conversations on your Google Plus page will help your readers to easily connect to your content, making it more relevant to their needs and to the search engine as well.
Creating your Google Plus page and snippet
In order to help your authorship become more popular in the search engine, you need to optimize your Google Plus snippet. This will be crucial in order to drive traffic to your Google Plus Page. The Google Plus snippet will show your Google Plus Page image alongside your content in the search result. Web users can also immediately find the number of your Google Plus circles directly from the snippet.
The benefits that can be derived from optimizing your snippet include:
Building more credibility and professionalism on your content and authorship.
It can capture the attention of web users that can encourage more clicks and grow the number of followers.
It can also be a good tool for building your own personal branding.
All these can help boost your website's rank on the search engine through your Google Plus authorship popularity online.
How the Google +1 button can boost your search ranking
The Google +1 button is another tool available that comes with your Google Plus profile. If you are already familiar with the Like button on Facebook, the Google +1 works in a similar way but much better.
The button provides its users the benefits of conveniently sharing their content in their social media networks and to encourage others to click on the button to express how cool the content is. This can significantly increase the traffic of your website and helps boost its search rank. Each time a web user clicks on your Google +1 button, it is a way of sharing your content to their networks. The more people sharing your button sends signals the search engine that your content is relevant and worth sharing to others. This gives your authorship a boost in the search engine calculations.
The use of the Google +1 helps your search engine ranking as well. Google announced upon the launching of the Google Plus that they will be using the Google +1 button as a social signal for website ranking on the search engine and will likely to be used on search quality in the long term. Each time someone clicks on your Google +1 button it adds to your credit on the search rank that adds more relevance and credibility to your website.
Adding the Google + button to your website is easy with these steps:
Go to the Google Developers (https://developers.google.com/+/web/+1button/) Google+ Platform under the Products section.
Select the options that are available to suit your preferences as to where you want the Google+ button to be annotated on your website and the button size. There are also advanced options available for you to tweak upon to create your button.
The tool will then generate the code for your Google+ button. Use this code to paste on your website which should appear like this on your HTML:
<html>
<head>
<title>+1 demo: Basic page</title>
<link rel="canonical" href="http://www.example.com" />
<script type="text/javascript" src="https://apis.google.com/js/plusone.js">
</script>
</head>
<body>
<g:plusone></g:plusone>
</body>
</html>
It is best to position the Google+ button on a specific area in your content that will make it more accessible to your reader's viewing. Google Webmaster suggests that you should place the button above the fold to make it more visible to your website visitors. It can also be placed near the title of your content. These positions will optimally make your button more easily accessible without the need of scrolling down your website page.
So what about you?
Have you set up a Google+ page? Have you created Google Plus one sharing buttons on your site? Do you enjoy using Google+?
Look forward to hearing your insights and stories in the comments below.
Guest author Kelly Wilson 
Want to learn how to make your blog a success with social media marketing and contagious content?
My book – "Blogging the Smart Way – How to Create and Market a Killer Blog with Social Media" – will show you how.
The rise of blogging , Facebook and Twitter has made us all publishers.
Add mobile HD cameras mounted to helmets streaming death defying leaps, extreme bike moves and dives and you have an explosion of multi-media creators and publishers. Mobile and modern camera technology coupled with global social networks are providing platforms and networks with the media fodder that are supercharging content distribution and sharing.
Content and media is no longer gathering dust in the bottom draw or the filing cabinet but is published online. Often it is streaming and unedited. It's real and raw.
Content now comes in a wide variety of formats and media. It can start with a 140 character micro blog (tweet), a video. image or a long form content piece of 2,000 words on your blog. It can even be a 6 second "Vine" video or a filtered snapshot on Instagram taken on a smartphone.
These fast changing opportunities and mediums are presenting the traditional marketer with some thought provoking and uncomfortable choices. You can almost hear the squirming.
Why content marketing upsets traditional marketers
The old school marketing habits and paradigms don't cut it anymore because content marketing requires a different way of thinking. It flips the marketing model in many ways.
Pull rather than push. Its about attracting the customer to you rather than pushing advertisements. That's different.
Entertain and educate first and sell second. Traditional marketing never heard of the term educate.
You don't talk about your product. Mentioning your product in content marketing is inappropriate. The old school thinking struggles with that. 
You must think and act like a publisher not an advertiser. That is not in the comfort zone.
You operate in real time. This means you have to be thinking about "continuous marketing" as well as being campaign focused. That's demanding.
Need different resources. This includes staff and software. The status quo is being challenged.
Needs a different culture. Publishing culture is different to an advertising mindset. Newsrooms, reporting and editing are a world apart from corporate marketing and advertising.
These mind warps are presenting some challenges and potential disruption to the marketing department and the CEO. What are the obstacles in moving from traditional mass media habits to a publisher paradigm?
The challenges to becoming a media company
The challenges come from many angles. Some are larger than others. It means adopting a flexible mindset that is open to change. That in itself is a challenge.
Here are a few to keep in mind as you move to a content marketing culture that  embraces the new.
Re-allocation of resources. It is hard to discard old habits but it requires a hard look at what isn't working or appropriate and try something new.
Re-educating the team. It will mean sometimes forgetting what was taught at university or college because most of the changes in media are mostly less than a decade old. YouTube is not yet 10 years old (founded in 2005), tablets have only been around for 4 years and Facebook was launched in February 2004.
Changing the culture. Maybe change management is needed.
Adapting to a mobile content world. Smartphones only exploded into popular culture when the first iPhone was launched in 2007. Websites need upgrading to be "mobile responsive" and content optimisation now has to consider viewing on smartphones.
Understanding re-purposing of content. With the broad range of multi-media formats (30 plus at last count) and social networks, brands need to understand that we have different  preferences for the media we read and watch and the social networks we use to consume them on. Same message but different media.
Developing an integrated mindset. This means weaving content marketing into other marketing channels. This includes embedding content marketing in and across all media channels including social, search, email and traditional mass media.
Creating "conversations around the brand" not about the brand. (Thanks Altimeter for that insightful phrase). This means c

reating content that has heart and soul of the brand embedded but not mentioned. 
So what does this adaptation look like?
The content marketing stages
Content marketing is still embryonic for most companies. Here is how Altimeter sees the stages of content marketing maturity
So let's take a closer look at the key elements of each phase according to Altimeter.
Stand: Dabbling in content marketing and may even have a blog but use it infrequently. It's more about push advertising
Stretch: Begins to build a strategy and starts taking some first steps. Assigns an internal advocate/sponsor and starts to focus on one or two specific channels.
Walk: Move from channel specific and starts moving its content across many platforms. Processes are formalized and a team begins to take shape. Governance and the ability to scale are emerging.
Jog: This is where a culture of content is noticeable. The company is seriously committed to content marketing. Content moves from simple to more engaging and experiential. Relationships with agencies move from campaign focused to long term. Still struggles with how to integrate with other media channels.
Run: This is where the brand becomes a bona fide media company.  It even monetises content. It is able to make money from innovative and highly polished content. Production and creative are now often a full standalone unit
What is an example of a company that is at the run stage? 
Red Bull the "media company"
Red Bull is an Austrian company that was founded in 1987 that sells the most popular energy drink in the world, with 5.2 billion cans sold in 2012.
It now has a separate stand alone media company with 135 staff. Red Bull has become a media company that just happens to sell an energy drink product.
What do they publish?
The publishing is extensive both in media, channels and formats. It includes mobile apps, print, web TV, web radio, newsfeeds, social networks, video and even a full length film. It owns 900 different domain names spread across 36 languages.
1. Full feature film "The Art of Flight"
This takes publishing and being a media company to the extreme. But that is what the Red Bull "Brand" is about.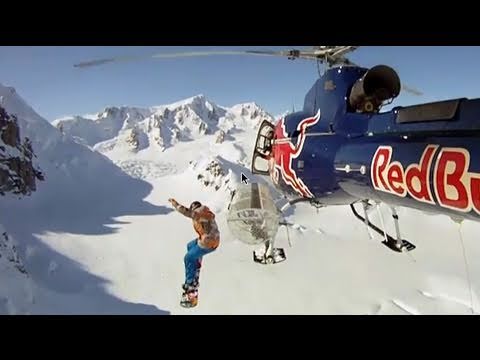 2. The "Print" magazine
Red Bull doesn't stop at digital publishing but also does print. The Red Bulletin has a distribution of 5 million copies a month. This is inserted in newspapers as a free publication.
3. Mobile games
It doesn't stop at full length moves but also extends to games. Here is the Red Bull X-Fighters mobile game.
4. Events that are captured on media
These are mostly sporting events of some type and includes: diving, Formula One Motorsport, plane racing, snow boarding and cycling just to name a few.
5. Music
Not content with digital media they also sponsor a music school and month long event called Red Bull Music Academy.
6. Epic events on YouTube
One of the most memorable and also one of the most successful media events put together by Red Bull is the "Red Bull Stratos" jump from the edge of space.
The brand awareness created by this content provides some insight into content marketing on steroids. Here are some stats courtesy of Sarahs Faves
Red Bull Stratos on YouTube had 8 million concurrent views. The previous record was the Curiosity Mars landing at 500,000 

The photo of Felix Baumgartner taken after landing generated 29,000 shares, 216,000 likes and 10,000 comments

The peak of online mentions of the hashtag #stratos was 194,000 
Currently  their YouTube channel has received over 600 million views putting them in the top 5 of sports producers on YouTube on the planet.
What is the benefit provided by that level of product awareness? Maybe hard to measure but I am sure they are selling more Red Bull.
What can we learn about content marketing from Red Bull?
There are many lessons to be learned from Red Bull, but here are the top lessons about content marketing we can learn from their public strategy and execution.
They have learned to entertain first. They understand that if you do this the sales will come.
They create conversations "around" their brand. No one wants to talk about a drink but they will talk about music, share amazing photos and embed videos that are epic
They have learned to monetise their content. They licence some of their images and they sell their movie and they also charge you to read their magazine
They created a focused and powerful content strategy by setting up a separate media company. No distractions allowed from the goal of publishing awesome content.
They understand the importance of mobile. They have developed apps, games and platforms that work for all devices
They understand not just quality but quantity. They are "everywhere"
What content marketing lesson are you going to implement today?
What about you?
Do you "get" content marketing. What is your content production record. Good, bad or ugly. What surprises you most about Red Bulls content marketing? Do yu think they are the top content marketing company in the world
What's your biggest takeaway from their content marketing strategy?
Want to learn how to make your blog a success with social media marketing and contagious content?
My book – "Blogging the Smart Way – How to Create and Market a Killer Blog with Social Media" – will show you how.