The way users search for content and products is becoming much broader. People are no longer simply typing in requests – they're using their voices and looking for matching visuals.
Image search has grown 60% in recent years, becoming popular through platforms like Google Lens, Pinterest Les, and Bing image search.
This means that marketers now need to put in a concerted effort to ensure that the images they use in their content are properly named and tagged.
In this guide, we will outline how to optimize images for visual search, thus boosting your image SEO and the reach of your content.
1. Keyword research
Keyword research is a necessary part of content creation – marketing teams spend a great deal of time optimizing their written content for search engines with the right keywords.
But the same diligence must be applied for visual content, as well, because it impacts how well your content appears in visual search results.
The first thing you want to avoid is keyword stuffing – just as you wouldn't overuse keywords in your written content, don't do it for images.
It won't improve the chances of your images showing up in visual search – quite the opposite, you might end up being penalized by Google.
Keywords used for images – in alt-tags and titles – shouldn't only be the ones used in the body of the written content.
Visuals should have their own keywords – if they can stand alone, they boost the chances of your content being seen by a wider audience.
The keywords you use should still pertain to the topic – think of adding related terms that aren't the exact word or phrase for the written content. You can use a mind map to brainstorm ideas.
Another important way to boost SEO is by using longtail keywords and phrases – a single keyword may be too broad to get you any traction.
However, using a specific phrase not only identifies your image to audiences, but it improves the chances of your images appearing in visual searches for those terms.
It may seem like you are narrowing your audience by using longtail keywords, but you are reaching out to a distinctive section of people who are more likely to interact with your content.
For small businesses, keyword research can be a challenge – however, tools like Ahrefs and Hubspot can help you define the keywords to use for your images.
2. High-quality imagery
This is a no-brainer – better quality images are always more visually appealing and will perform better in visual searches.
However, this can be a challenge – to make your website load faster, and improve the site's position on the SERP, you will want to use smaller-sized images.
Lower quality images take up less space and can help your site load time. But when these images show up on Google, people are less likely to click on them.
Put yourself in the shoes of the people searching for a particular product – that is where the visual search will be used more often.
When this potential customer finds a pixellated image of your product, they will immediately move on to the next best thing, even if they were specifically looking for your product.
Check that the images you use are high-res. And remember that scaling them will impact the resolution. It might save you space but you don't want to lose out on quality and clicks.
3. Image size
We've touched on the importance of the quality of images but the size of the image file has a great deal of impact on visual search results, too.
Smaller image sizes not only load faster on websites but also within the results of a visual search engine – this immediately improves the chances of people clicking on your image.
But how will you maintain image integrity without having to upload massive-sized files? By choosing the right file format for the job.
The three popular image formats are JPG, PNG, and GIF.
JPG
JPG files are lightweight and easy to compress – this means that you can create various sizes of the image and save on space and load time.
However, JPG files lose resolution the smaller you make them – they also have a tendency of becoming further compressed once uploaded.
If your image is very high-res, you can still retain some of the quality even after compression.
PNG
PNGs are of high quality and don't lose resolution even after compression -making them an excellent format for infographics, illustrations, and vectors.
But PNGs are usually very large files – this makes them useful for print materials but not so much for web use.
GIF
GIFs are the smallest of the three and ideal for websites – they can contain a lot of information in an image without becoming too large.
But GIFs don't contain the quality of JPGs and PNGs – if you need to use an image that conveys a message GIFs may not be for you.
The image file type you use will depend on the kind of content you want to share, and how important space is for you.
A general rule is to use JPGs and GIFs for web images and use PNGs only when you need a high-quality image.
Another thing that many marketers don't realize is that when you scale your images, every new image size is also a new image.
By creating varying image sizes, you diminish the SEO reach of your primary visual – as much as possible, use one image, and resize it before uploading to your site.
4. File names
Not many people take the time to name their files and it affects their SEO – visual search heavily relies on the image file names.
If your website is full of images with generics names like '52019TX', you aren't going to be able to generate any traffic from them.
On the other hand, if you have a precisely-worded file name that conveys information with regard to the image and includes keywords, you will see your SEO soar.
The reason for this is that uploaded images are given their own dedicated URLs – just as your content needs to have URLs with keywords so as to be found, so will your images.
Using keywords in the file name and in the alt text will ensure that Google indexes your image according to the pertinent subject matter and allows it to appear in relevant visual searches.
And when naming your image files, avoid using dashes – use underscores because Google interprets them as a space, while it ignores dashes.
5. Image titles
Meta titles and meta descriptions should always be filled out when writing a piece of content online – these help Google find and share your written pieces.
But the same rule applies to image titles. Follow the lead of your image file name and give your image titles a proper name – don't keep it generic, and don't just copy-paste the file name.
Try and use descriptions and keywords in the title so that people searching for related topics in visual searches can find your images.
Also, consider writing captions whenever possible – captions give images more context.
When people are hurriedly scrolling through their search feed, a caption could be a handy tool to explain the context of the image and how it is relevant to them.
Remember not to go overboard with your image titles – you don't want to use every keyword possible in this section. The point is to make the image easy to find.
6. Alt text
Image SEO heavily relies on the correct use of alternative text – this is the text that appears when the image doesn't load or is blocked.
Alt text has since become an important cog in the SEO wheel – the alt text of an image gives your SEO a massive boost.
While you can limit your alt text to the keywords of your topic, you should actually use it to give a complete description of the content of the image.
There are a number of reasons for this. For one, if the image fails to load, the user will still know what the image was illustrating and will be encouraged to continue reading.
With the correct alt text and keywords in place, Google will be able to understand the subject of your image and index it to appear in relevant and adjacent searches.
But more importantly, alt text is important for screen readers and assistive devices. These devices are often used by people with visual impairments.
When the screen reader scans the content, it reads the written text as well as the alt text – if the alt text isn't well-written, it will leave the user confused, prompting them to click away.
If the alt text is descriptive and adds value to the user, they will be encouraged to read further – an act that will be noticed by Google, resulting in better rankings for your content.
7. Sitemaps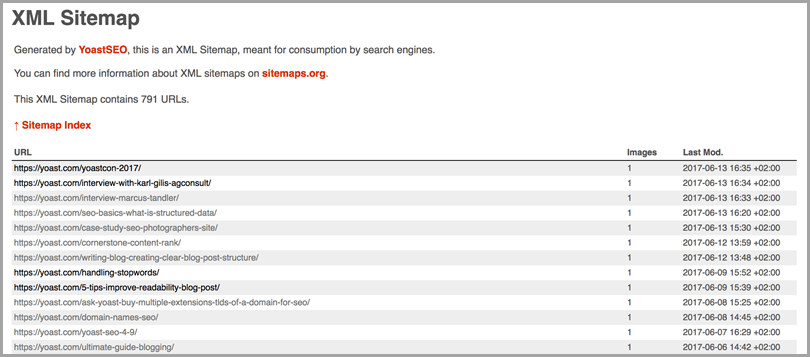 The steps above are crucial for guaranteeing that Google sees and displays your images correctly, but you need one more asset to complete the process – an XML sitemap.
Marketers rarely talk about sitemaps nowadays but they do have an impact on your visual search results.
XML – Extensible Markup Language – sitemaps tell Google what and where your images are so that the search engine can lead users to them.
It is best to include a complete list of your visuals in an XML sitemap – essentially a text file – which you can submit to the Google Search Console. Yoast has a walkthrough here.
You can create your sitemap using online tools, many of which are free, or use plugins within your CMS to generate one. Ahrefs has an excellent guide here detailing the process.
This is a slightly technical project and needs to be planned out before being executed – but a sitemap will make the visual search process much more streamlined and effective.
Summing up
With Google's algorithm changing, and visual search becoming more popular, marketers need to adjust the way they use images in their content – indexing your visuals for search engines needs to become a priority.
This 7-step guide illustrates why visual search is important and how marketing teams can make the most of this new SEO-boosting process.
Visual search still has a way to go but it is becoming more popular in 2020 and should be included in your marketing plan for the next five years.
Guest author: Ronita Mohan is a content marketer at Venngage, the online infographic maker and design platform. Ronita enjoys writing about visual content marketing, business development, pop culture, and diversity.
Free Download
The Ultimate Guide to Organic Traffic for Small Business